iPap Celebrity Spotter
Role: design, ux, html, cms, iphone app
iPap is a celebrity spotting website that taps into the national obsession for celebrity gossip and information. Upon seeing a celebrity users add an iPap mentioning what the celeb was up to and adding a photo to score more points. The iPap is then displayed on the site's map and pushed out to a Twitter feed. The site runs as both a conventional website, an iPhone/Android optimised mobile site, and a dedicated iPhone app.
As with anything that aims to capture and retain an audience, constant innovation and development is essential. New features have included the ability to add Tip-offs as to where celebrities are going to be appearing as well as The Bartonometer which tracks the ever colourful life of Mischa Barton.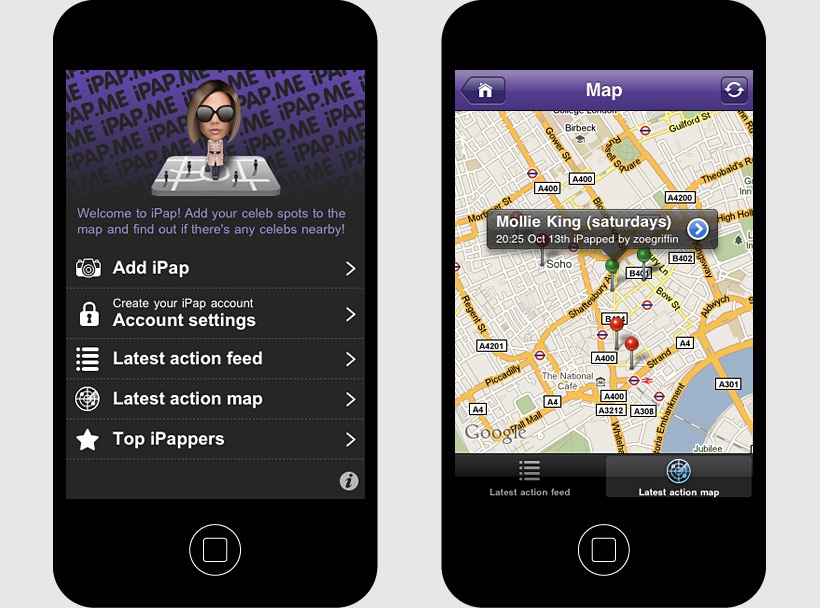 White-labeling
In order to maximise the number of sightings, iPap features a Top 20 list of the best celebrity spotters, and encourages users to compete to add more spots. The core system was also re-branded to run as part of Zoe Griffin's 'Live like a VIP' website, the data being shared between the two sites and increasing the number of celebrity spots.